Tips for finding customers at a B2B portal
Date posted :

June 04, 2022

|
Comments :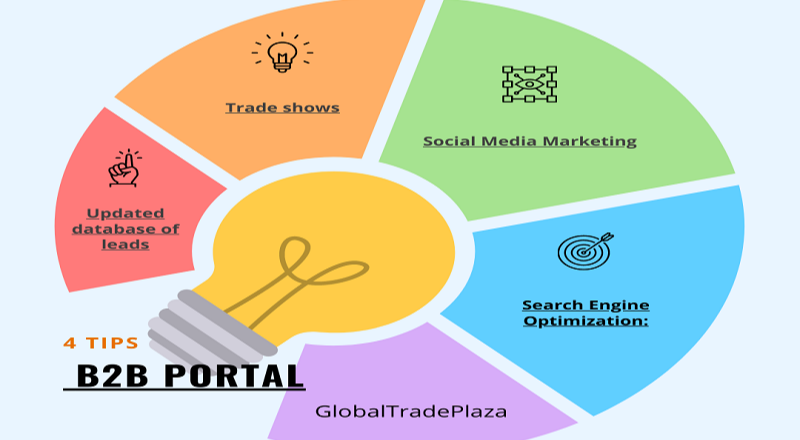 Marketing
A business portal is an online destination that gathers all the information related to a business like its products, services, customers, etc. Nowadays, companies look for online marketing tools and develop their business portals for making them accessible to their customers and generate leads. With B2B portals, you get to put all your business information in one place, so potential customers can find you on their own. In the current scenario, B2B portals are focusing on business-to-business lead generation with a strong focus on quality and quantity.B2B lead generation portal is helpful for the organizations to target their potential customers. Nowadays, the B2B lead generation portal is generating leads at a fast pace. The business sector is going with the changing trends and the tech advancement is changing the business strategies. The customization portion is also the key to getting a successful result. Creating a strong business profile leads to more potential opportunities for you. Those who are marketing their business online are advised to tap into online B2B portals.
How B2B trade portal is useful in finding the right potential customers?
Updated database of leads: To be successful in any business, you need to have a database of leads that you can use as and when you need it. Whether you are looking for a large database of email addresses or a small database of phone numbers, you need to have it. For some businesses, these databases can be a real problem. B2B trade sites have made it easy for all of us. The B2B sites are the key to knowing the company, its products, services, the industry of the company, and the sales process.B2B trading platforms have an updated database of leads that you can contact and target for conversions. B2B directory listing sites can provide you with the leads according to the various filters that resonate with your business and can be converted into sales.

Trade shows: Can you afford to miss out on trade shows when you are a business-to-business (B2B) enterprise? Well, you can, but it's not a very good idea. Trade shows are still the most effective way to meet new clients, network, and spread the word about your products or service offerings. Company owners can also get post-event feedback about their offerings, helping sales teams and marketing departments shape strategies for future growth.B2B trading platforms also organize trade shows which is one of the best ways to discover potential customers.

Social Media Marketing: Business-to-business (B2B) portals have some specific challenges for marketing. As a B2B portal, you need to attract companies who aren't your customers today but could be your customers tomorrow. One way to capture their attention is to use social media marketing. Social media portals are an excellent source of traffic that can drive targeted customers to your business or website. Many top B2B portals in India assist in providing help for marketing through different social media channels like Facebook, Twitter, Linkedin, Instagram, and more. This can be beneficial to your business regardless of if you use software or organic marketing methods to generate traffic.

Search Engine Optimization: Most B2B portals have their SEO departments. This department is responsible for the optimization of content. The aim is to attract as many clicks as possible. Whether it is about the latest news or new products and services, B2B portals have an important role to play in SEO. Nowadays, most SEO experts are very active in B2B portals. This is due to the growth of the platforms. Search engine optimization is one of the most important tactics for any B2B company using digital marketing. A B2B company must have a presence on the main search engines if it wants to succeed in the internet age. Search engines help to drive traffic and engage customers. Search Engine Optimization is important to drive potential leads that you can convert into customers.