Why Global Trade Plaza Is The Best B2B Platform For Exporters
Date posted :

May 25, 2022

|
Comments :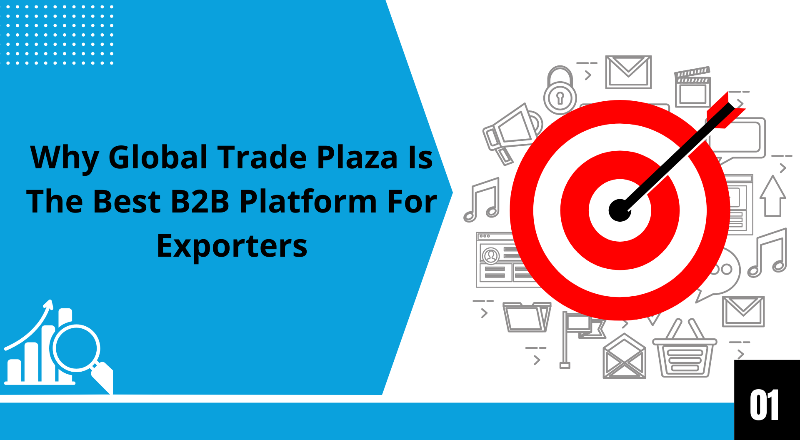 Marketing
Global Trade Plaza started its journey as a B2B marketplace for buyers and suppliers to solve the challenges in the B2B sector. The export sector is highly competitive in B2B. It leads to small scale exporters struggling in the market. It can include several barriers like language blocks and lack of knowledge of the supply chain and export market. Hence, Global Trade Plaza focuses on small and medium-sized companies. It is a top B2B portal in India that understands these problems. It provides a one-stop solution for these companies to become profitable in the B2B sector. As a result, Global Trade Plaza is the largest B2B portal for your company to flourish in this era and get verified leads.
Top Industries On The B2B Platform of Global Trade Plaza:
AGRICULTURE- The products include crops, livestock, dairy and dairy products, fishery, forestry, and horticultural products. India is a major exporter of agricultural products around the world. Agriculture exports reached US$ 50 billion in 2021-22, up 19.92 per cent from US$ 41.87 billion in 2020-21. Cereals (mainly Basmati and non-Basmati rice), spices, cashew, oilcake/meals, tobacco, tea, coffee, and marine products are India's main agricultural exports. The proportion of agri-exports to total exports has fluctuated between 15% and 20%. The categories in the top B2B portal offered are:
Agriculture Machinery & Equipment

Agriculture Fertilisers & Pesticides
APPAREL AND FASHION ACCESSORIES- Fashion items such as garments, shoes, home textiles, and fashion accessories are created in one country and shipped to other countries in the fashion exporting sector. With a global market value of $759.5 billion in 2021, clothing, adornments, and footwear are the most growing Commerce categories in the world. The fashion and accessories sector is to grow at a 7.18 per cent CAGR through 2025, reaching a market value of $1.0 trillion. The Indian textile and garment business currently accounts for 3.9 per cent of worldwide textile exports. China has the most fashion consumers in international markets, with $284.3 billion in revenue expected by 2020, followed by the United States and the United Kingdom. The categories in the top B2B portal offered are:
REAL- ESTATE AND CONSTRUCTION- The construction industry's high profitability is fueled by flying housing prices, syphoned capital and labour away from export-intensive businesses. According to ICRA, infrastructure and real estate investment trusts are expected to raise more than Rs. 3.5 trillion (US$ 48 billion) in 2022, compared to US$ 29 billion raised so far. By 2030, India's real estate market is estimated to be worth $1 trillion, accounting for 18-20% of the country's GDP. The categories in the top B2B portal offered are:
Building Material & Equipment

Glass & Ceramics Related Products
ELECTRONICS- Electronic equipment and electronic goods are manufactured in the electronics sector, as are electrical components for several products. Mobile phones, televisions, and circuit boards are all common commodities in the electronics industry. Electronic goods exports in India increased by over 88 per cent, from USD 6600 million in 2013-14 to USD 12,400 million in 2021-22. Electronic goods exports reached $1.67 billion in December 2021, up 33.99 per cent from the $1.25 billion recorded in December 2020. This sector's main exports are mobile phones, IT hardware (laptops, tablets), consumer electronics (TV and audio), industrial electronics, and car electronics. The categories in the top B2B portal offered are:
Electric Circuit Components & Accessories

Networking & Communications Devices
FOOD AND BEVERAGES- The food and beverage sector covers all businesses involved in the processing, packaging, and distributing of raw food materials. It includes fresh and packaged foods and alcoholic and nonalcoholic beverages.
Food processing is one of India's most important industries, ranking fifth in output, consumption, and exports. The United States received the majority of India's food and beverage exports in 2019, at 2,149 million euros. The majority of the other significant export partners were Asian countries. Among the several agricultural and processed food product exports covered by the APEDA basket, non-basmati rice has emerged as India's most export item, accounting for over a quarter of total exports in 2020-21. The categories in the top B2B portal offered are:
Other industries under this top B2B portal in India are Home furnishing and supplies, industrial goods, minerals and metals and other miscellaneous.