Grow your textile business with the B2B trade Portal
Date posted :

June 01, 2022

|
Comments :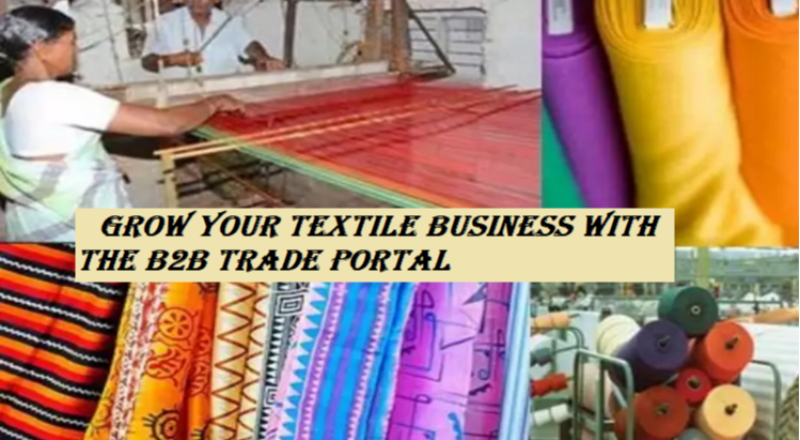 B2B
The textile industry, in general, is huge. It is not only a significant part of the Indian economy but it is also a huge part of the global economy. It is a multi-billion dollar industry and it is not only growing in terms of the number of people working in it, but it is also growing in terms of the number of people buying the goods that are being produced by the industry.
The textile and apparel industry incorporates many different players, including manufacturers, agents, merchants, retailers, wholesalers, transporters, and international buyers. Around 300 million workers are employed within the textile and apparel supply chain.
Textile industry as an export business:
The textile industry is one of the biggest export-oriented industries. So, if you are planning to grow a decent textile export business, you need to choose the right B2B portal. You don't want to compromise on the quality of the business leads that you get. When you have a business that is based on the textile industry, you have to be on top of your industry so that your business can grow and become successful. The textile export business is beneficial in many ways. A lot of people are opting for it as it is one of the most profitable businesses. Textile is a business that has a lot of potentials and it is gaining popularity in most countries. Exporting textile products is a good business plan for people who have a good amount of capital to invest. Though India is known for its gems and jewelry, the country is also called "the world's foremost supplier of cotton and silk fabrics.
How B2B portal can help in growing your textile business?
Potential Customers: The b2B trading portal is helping many companies to reach potential customers with their business. The b2B portals provide various facilities which improve the business of the company. With the help of these facilities, the companies can offer their products and services to the target audience. Running a business is hard work, but it can be made easier with the right tools. With advanced technology and communication, it is now possible to reach out to potential customers from all around the world. You can get the right leads for your textile business and can convert them into sales. You will be able to find the right importers across the globe and trap the global overseas market.

Analyze the market: The textile markets are a very lucrative market and an extremely competitive market, it will only get more and more competitive if you are going to be exporting your goods into this market and that is why you need to keep ahead of the game, so to speak, a b2b trading platform will help you in doing this. Choose the best B2B marketplace for buyers and sellers that can help you to track the statistics and keeps you updated with the insights. B2B directory listing sites that provide the facilities to analyze and track the status of products and competitors' markets make it easy to get ahead in the game.

Increased conversion rate: There are all kinds of businesses that use textile products and services such as clothing, home decoration, shoemaking, and promotional products.B2B trade portal provides you with the right leads and helps you to get more conversions. When you use the right B2B portal in India for increasing your business, you will get the right business opportunities that will increase your sale and profits.

Marketing: People want to explore different options and your portal has to be an innovative one to attract customers.B2B trading portal helps in building an effective online presence and increases your reach. Using the B2B trade portal, you can showcase your products and services easily to a large number of people. B2B marketing will help you to gain more customers by making them aware of what you are offering and how you are beneficial to them. Also. use social media marketing which helps you in increasing traffic and increasing your sales. Use the different social media platforms like Facebook, Instagram, Linkedin, and more. You will gain a huge number of customers by making effective marketing of your products and services on these platforms.