Why your company should be listed in B2B Marketplace?
Date posted :

May 20, 2022

|
Comments :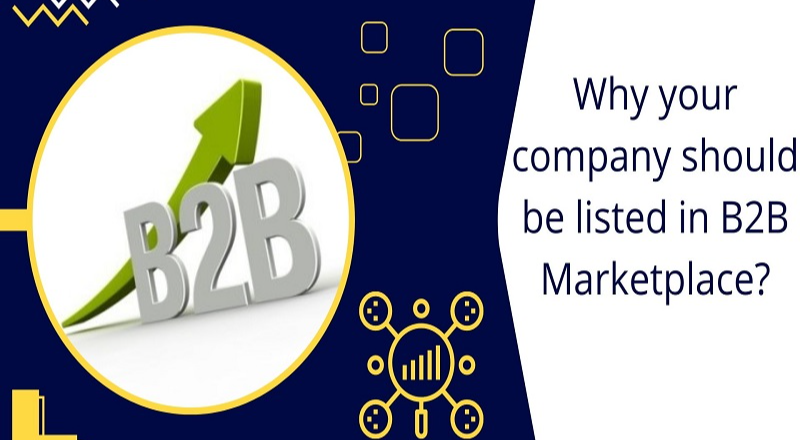 B2B
Business-to-Business (B2B)marketplace has been a booming sector during the past few years and is projected to grow at a rapid pace soon. To run a profitable business, you need to be present on top business marketplaces and directories.
There are a variety of business marketplaces in the B2B niche, but you need to choose the most suitable one for your business.B2B marketplace helps to connect businesses directly with customers and helps them to sell and buy products at reasonable prices.
A listing in a B2B Marketplace is a great way for a company to get their products in front of other businesses and this is especially true for smaller companies that don't necessarily have the budget for a dedicated sales team.B2B Marketplace is the best place where are business can be listed and promoted. Here we can find hundreds of customers, thousands of companies, and millions of products.
Benefits of listing in the top B2B marketplace:
Easy-to-set-up: B2B business is easy-to-set-up and can be easily used by businesses. At the heart of every business are its customers and B2B directory listing sites are the perfect place to find them. Join the top B2B portal that provides a list of different companies that can provide products and services that you need. They simplify the process of finding the right business partner. You need to make sure that you set up the platform correctly to ensure that it is easy to use by everyone. You need physically set up any shop or office that lessens the burden.

Cost-effective: The B2B portal allows you to connect with buyers and sellers around the world. You can easily sign-up free of cost and get your business registered with the top B2B portal. Setting up a business in teh top B2B marketplace eliminates many costs of labor, place, and more. You can eliminate many overhead costs and saves a lot of time and money. B2B directory listing sites allow you to carry on your business from anywhere in the world.

Branding: The B2B portal provides an easy, cost-effective marketing strategy for businesses to advertise their services, products, and company. On the internet, everything you have is exposed to public scrutiny. How you do business, current status, and information about the company are all accessible by the public eye. This is why branding through the creation of a top B2B portal can be a very helpful asset to you. It helps you become reputable, recognized, and lets you grow as a company. It is rightly said a business is as good as the reputation it holds in the market and today's cut-throat competition, the only way to reinforce and maintain a good reputation is by acquiring a B2B lead generation company.

Insights: With the help of a B2B lead generation company, you can check the insights and analyze the market status. You can plan your sale strategy accordingly. Businesses use portals to get information about their potential customers, competitors, and industry insights. The B2B portal helps you to know your competition and understand the market by collecting information about it.B2B portals help in gaining insight into various aspects of the business. They help users in generating leads, connecting with new business partners, identifying the right target audience, and so on. Most top B2B portals offer a range of services that can help you with your business goals.