Why it is the best time now to start a B2B business?
Date posted :

June 09, 2022

|
Comments :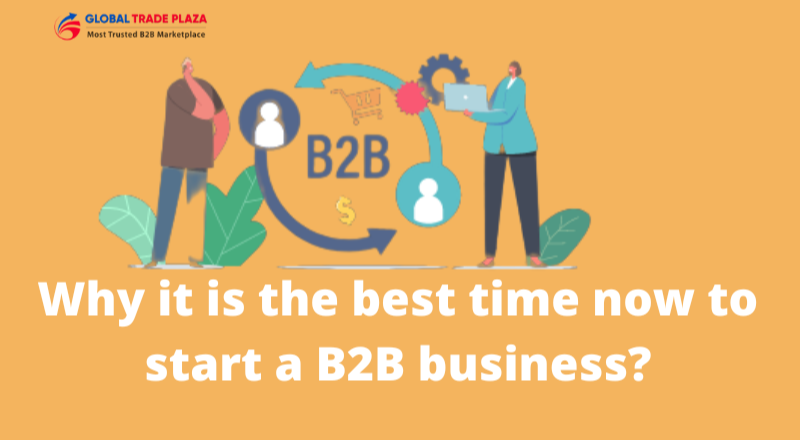 B2B
The B2B trade portal is an effective platform for trading in an international B2B marketplace. In this B2B trade portal, business owners from all over the world can open their businesses online and can do online transactions with their customers. It is the place where business owners can get the customers for their businesses.
B2B industry is becoming a more demanding sector. At every age, competition is increasing and more people are becoming billionaires. So why is the B2B industry growing so rapidly? What are the opportunities for business?
If you run a B2B business, there are many factors to consider before deciding that now is the right time to start. As an entrepreneur and small business owner, you must know the importance of the B2B market. So, if you have started the business, then you need to think about your business-to-business marketing plans.B2B business is important and the scope is huge. It is the right time to start a business in the B2B sector. The primary reason behind it is the increasing competition in the B2B sector. There are a lot of B2B business owners in the world who are doing well in their business by using B2B marketing techniques.
B2B can be a great opportunity for both the seller and buyer. B2B ecosystem has many parties involved, which makes it an ideal place for creating value.B2B marketing is relatively new for small businesses that normally market to consumers. However, B2B is getting an outreach of the digital platform, which helps businesses even more.
3 reasons when you know that you need to enter into a B2B Marketplace-
Lack of potential customers: Your business is not able to get the right amount of leads that you can convert into customers. You are facing difficulty in finding the right customers for your business. You are not able to get the right customers and suffering from the sales. B2B trade portal can be the biggest source of finding the right potential customers. B2B marketplace for buyers and sellers can help you to find the right prospects that you can convert into customers.B2B trade portals are the best platform where you can get a huge number of targeted customers.

Stagnant Growth: You are noticing that your business is not getting enough exposure and not moving towards growth. Your business is stuck in the phase where you are not able to improve your sales and profits. Businesses are finding difficulty in analyzing what to do, whom to sell, and where to sell. When you choose the top b2b portal in India then you can understand why it is important for your business to grow. B2B trade portal helps in enhancing your business growth. With the use of the B2B trade portal, you can explore many global business opportunities.

Less reach: f you are not able to increase your reach among the right audience then the B2B portal is the right solution for you.B2B marketing is beneficial for increasing your reach across the globe.B2B marketplace for buyers and sellers allows you to showcase your products and services to the targeted audience. With the use of the B2B trade portal, you can increase your reach and develop a strong online presence.